If you're a My Docs Online customer you know how important customer service is to us.  We've got real people answering the phones in our Florida based offices.  We have real people, not auto-responders who reply to your email messages.   But what many of you may not know is that we've now got those same people answering live chat requests that can be launched from our website.  We've added live chat  to many of our web pages to make it as easy as possible for you to get your questions answered. It's the latest addition to our business communication options.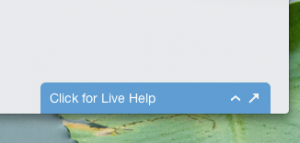 Any time you see the "Click for Live Help" button it means we've got trained staff standing by to answer your chat questions.
Why is live chat a great way to reach out to us?  Sometimes you just have a quick question, or need a link to an instructional page, or have a question about account configuration, or file permissions.  Whenever you want to reach us with a question, comment or suggestion and you see that blue box just click it and launch the chat.  We look forward to chatting with you.