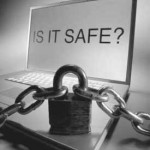 Data theft and loss are two significant areas of concern in today's society. The world demands and expects instant communication, and much of that communication consists of sensitive information that is stored and transmitted electronically. That means that our sensitive information is not always under our care, custody, and control, and we are forced to make some difficult choices.
How Safe Is Your Information?
In many corporations, there is little or no control over the sensitive information that has been entrusted to them. This is true for information exchanged within a business, as well as information that is transmitted to parties outside of the company. Because of this failure on the part of many organizations, legislation has been introduced in some areas requiring protective measures. These regulations include HIPPA, Basel II, SOX and many others. It is not merely sending information that makes it unsafe, it is also the manner of storage that is in question. Items like CD's, USB sticks, and even tapes are used, and then often placed in a location that is easily accessed by other parties.
Not very long ago, personal and banking information on over 25 million people that had been stored on two CD's was misplaced in the United Kingdom. On October 18, 2007 these two CD's, containing information on each family that had filed for the Child Benefit, were sent to the National Audit office.
This correspondence was sent without the protection of  postal registration and was not documented.
This constituted a breach of existing protocols, and endangered the financial and physical safety of every person listed in the communication. It was approximately two weeks later that an announcement was made, informing everyone of the existing situation. It quickly culminated in the resignation of Mr. Gray, who was HMRC Chairman at the time.
Another event of data loss or contamination involved the United States Army Reserve. As of  May  2010, a contractor had been storing sensitive information on 207,000 reserve members on his laptop. That is risky enough, but when this laptop containing a CD-ROM with Reserve names, addresses, and social security numbers was stolen, the potential for disaster increased dramatically. The two other laptops that were stolen were not in possession of sensitive data. There have not yet been any further complications from this inability for the U.S. Army Reserve to store their information safely.
IT Security Protocols
It is very common for some IT departments to overlook guidelines that pertain to security authorizations. It has been estimated that  in more than 50% of accounts, the majority of employees, regardless of employment status, have access to all of the existing files. Given the volume of information that is exchanged between information systems, on a daily basis, it is crucial to guarantee the safety and reliability of  the transfer procedure. Most current methods are proven to lack either of those qualities.
Following a well-known incident that involved personal information being sold on eBay, the chief executive of Applied Security was quoted as saying, " Instead of looking at specific technologies such as laptop or USB encryption, the focus should be on encrypting files and folders at the source."
It is quite obvious that Mr. Frank Schlottke is correct in his statement.
What Can You Do?
My Docs Online was founded in 1998 to provide a exceptionally secure online environment for the storage and sharing of files globally for enterprise workgroups, small businesses, and for individuals.
The My Docs Online development team is comprised of former Senior Principal Computer Scientists from a leading Internet security firm. Their design and the goals of the My Docs Online Member services are to protect the integrity of the user database, and to prevent access to your files or documents without your knowledge or consent.
We are a privately held corporation located in sunny Naples, Florida in the U.S.A.
Our 10 years of online file sharing and collaboration experience has given us the opportunity to successfully help businesses of all types in over 160 countries with their file transfer and storage problems. Give us a call today at 239-495-1181. We take security seriously and have several convenient plans to fit your needs.