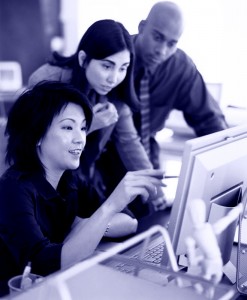 What Exactly Is Online File Storage?
Online file storage is, quite simply, the holding of information on an external server which is designed especially to cope with large volumes of data. Instead of a business employing one person to send out information numerous times—sometimes to many different countries—a business uploads all their information to one place (like My Docs Online, for example) where it is accessible to all staff, twenty-four hours per day. The advantage of this is clear: time is not wasted on sending emails confirming what has and has not been downloaded / viewed, and every person in the company knows exactly where they stand.
How Things Used To Be
Before online file storage was the powerful, high-speed, globe-encompassing entity that it has evolved in to today, running an online business of any size was fraught with challenge and difficulty at almost every level. Companies the world over relied on postal and courier services to deliver important information, with no choice but to accept a less than impressive time-scale, not to mention the strong likelihood of client dissapointment. With ever tighter deadlines to meet and clients expecting more and more value for money, companies struggled daily with a myriad of inter-connected problems which are now easily sorted in a matter of seconds.
How Things Are Today
Today things are very different—almost to the point that online file saving is now unrecognizable: like a gold-fish turned into a streamlined killer-whale. Instead of taking hours, sharing, accessing, and editing information happens in seconds. In minutes deals are done and dusted, crossing oceans and hurdling consecutive time-zones on a daily-basis. As a result the working day has been made infinitely more productive. In the space of a week a company can achieve what used to only be possible in a matter of months. The best part? Not only can we now do it fast—it's also very affordable.
The Standard Has Been Set
Quality service and a thorough dedication to efficiency may be the norm today at My Docs Online, but in its infancy, the online file storage industry as a whole was also a costly, slow, and cumbersome affair. With only a few specialist online file storage companies to choose from, companies were stuck with less than a handful of frustratingly costly options. In the age pre-broadband, staff struggled to properly do their jobs and companies fought against the constant headache of sending large files from point A to point B. All that's relegated to the past now, of course. My Docs Online makes it possible for businesses to implement the ideal online infrastructure, whatever their needs. In only a few simple steps, staff can send and receive information which is far too big to be sent via email (not to mention expensive). And there are several other prominent reasons why a business can benefit hugely from utilizing the best in online file storage:
Security Issues
Security is of paramount concern to every business, and My Docs Online file storage offers a number of obvious and distinct advantages over hard-drives and other data-holding equipment. Theft is one serious problem which online file storage—with its well-engineered safety features—is unaffected by. Fire is another. With information safely held off-premises, crucial data is safely kept out of harms way.
Diversity And Customization
Many levels of service are available, from economical plans to suit small businesses of only a few people to multi-user options capable of meeting the needs of networks containing hundreds. Increasingly powerful technology enables staff to navigate a sea of virtual information, and discuss its merits with colleagues at the touch of a button.